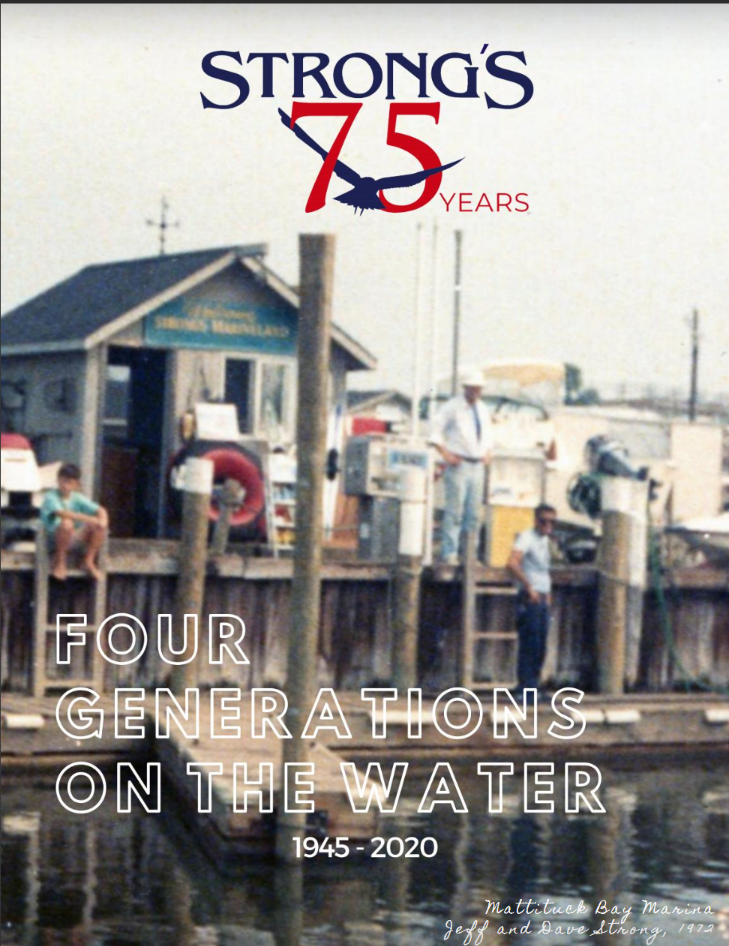 Introducing our special edition of DESTINATIONS Magazine celebrating Strong's Marine 75th anniversary, your resource by Strong's Marine for boating, new models and features from our premium manufacturers, upcoming events, summer memories, client testimonials, team member stories, and more!
In this issue, hear from President Jeff Strong about the companies 75th year in the marine business, walk through the family history of Strong's Marine, hear from our valued clients and employees who have been with us for decades, celebrate the community that has grown over the years and more!
Key Takeaways from our special edition of DESTINATIONS Magazine Celebrating Strong's Marine 75th Anniversary:
OUR 75TH YEAR - FOUR GENERATIONS ON THE WATER
We take great pride in marking our family's 75th year in the marine business in 2020. Now in our fourth generation, it has been an incredible journey! We've grown our reach across the region as we've built an amazing team, fulfilling families' dreams and creating lasting memories together.
We are so grateful to the clients who've supported our business as they've grown their love of boating. Many of you have been with us spanning your own family's generations; we are humbled to continue to serve you.
We are thankful to our longtime team members, some who have been with us 20 years or more! Your passion for delighting clients continues to inspire us.
Our family was raised on "Super Service." Stewart Strong set the standard in 1945, handing it down to his son Dave, who passed on this spirit to his son Jeff. Ryan and I have made Super Service the cornerstone of our business, instilling this high standard in the entire Strong's Marine team as it has grown. We remain the "Home of Super Service" today, as we will in the years and decades to come. Looking ahead, we will always seek new ways to deliver a caring and personal level of service to you and your family.
Because nothing is more important than safety on the water, we've made the commitment that every Strong's full-time team member will become boating safety certified by the end of 2020 -- and as always, we offer a full slate of safety certification classes to our region's boaters.
Strengthening our longstanding commitment to the boating community, we've grown our support of organizations that help keep our waterways safe and clean. Because we believe time on the water enriches lives, we are building opportunities for less fortunate children and families to spend time boating with Strong's team members and clients. We invite you to join us in supporting these important causes! You can learn more at strongsmarine.com.
We treasure our memories from years building relationships with clients while building our business. We welcome you to join us as we celebrate our history, and we look forward to making many more memories with you and your families over the next 75 years and beyond.
Know that our values of truth, honesty, integrity and pride, along with making every possible effort to enhance your boating experience, will always remain.
-JEFF, RE & RYAN STRONG
THE HORAN FAMILY - BOATING ACROSS THE GENERATIONS
Many Strong's clients share their love of boating across the generations. Jim & Sue Horan have been Strong's clients since 2000, joining Strong's when we opened the Southampton Showroom and Marina locations. The Horans and their two children, James, 26 and Brianna, 23, have enjoyed countless adventures together on their boat, "SUMO."
One of their favorite boating stories took place at the 2003 Strong's Rendezvous to Martha's Vineyard. Jim recalled all the boating families had young children, and they were inseparable that weekend. The highlight of the trip was in the middle of the night, when Hurricane Juan was on its way towards the island. Jim, Jeff Strong, and others labored out in the darkness, trying their hardest to move and secure all the boats out of the storm's path. They succeeded – and as an added bonus, they all got to extend the rendezvous an extra day!
Jim and Susan share priceless memories of sharing time on the water with James and Brianna -- seeing new places, meeting new people and enjoying time away together. Nowadays, the Horans continue to get together on SUMO, and they always look forward to their next adventure – because that's what boating is all about: making memories together.
LIFELONG MEMORIES ON THE WATER
Over the years, we've been fortunate to share so many adventures with generations of clients, teammates and friends. From our legendary destination rendezvous to adventures at our own Water Club casual resort, Strong's events on the water enrich lives, build relationships and bring us all closer. Oh, the stories we could tell!
Strong's Marine has grown over the years, now employing over 100 full-time employees across our locations. We are so fortunate that these longtime team members have guided and grown with us. Here they share highlights of their journey with Strong's. Thanks for the memories, and here's to sharing many more!