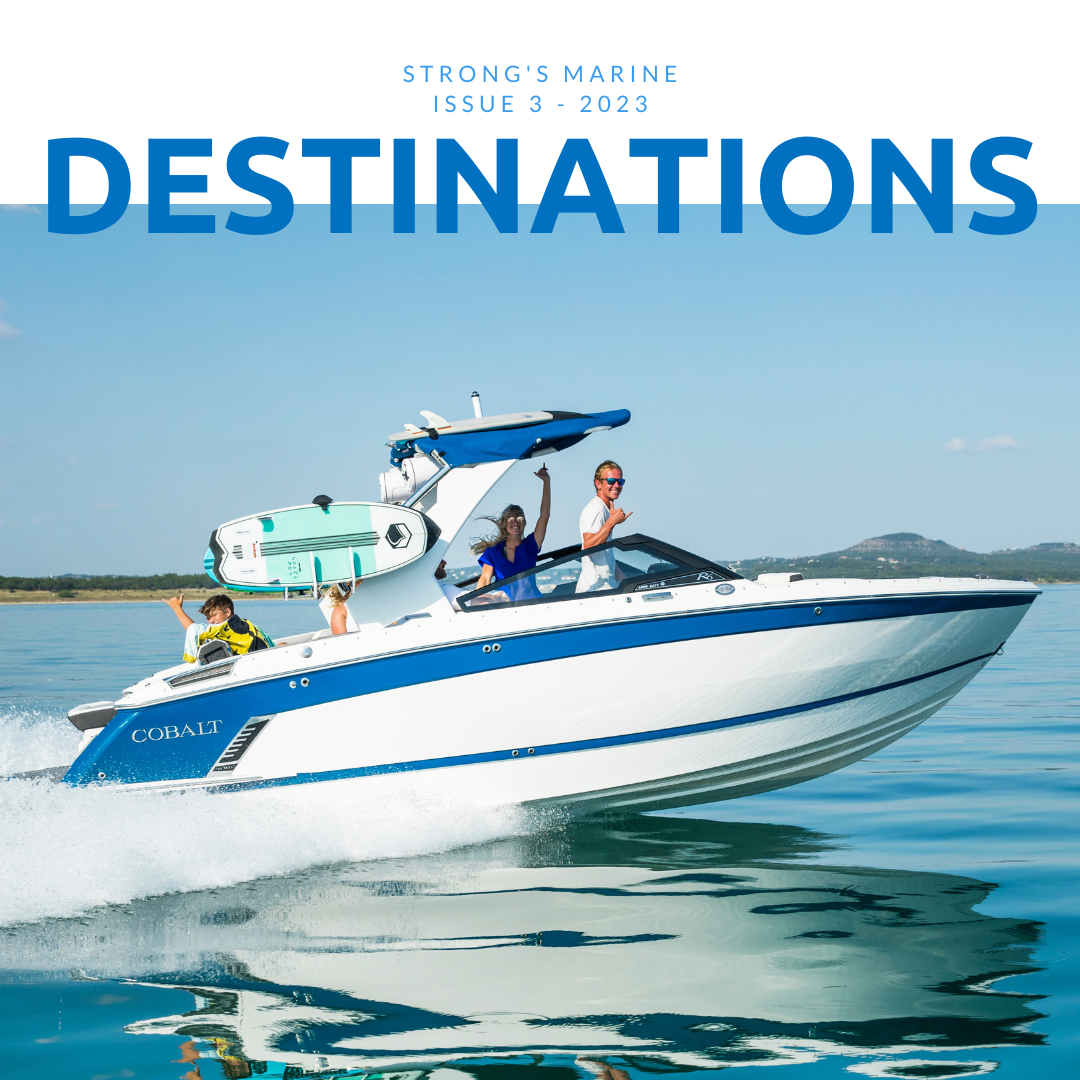 Introducing our 2023 edition of DESTINATIONS Magazine, your resource by Strong's Marine for boating, new models and features from our premium manufacturers, upcoming events, summer memories, client testimonials, team member stories, and more!
In this issue, hear from President Jeff Strong about the latest from Strong's Marine, the arrival of Fairline Yachts to the Northeast, the perks of valet docking at Mattituck Bay Marina, the state of the art innovations by Cobalt Boats, Strong's Total Care Commitment and how to visit the "Best Marina" on the North Fork!
---
FROM the HELM - A Letter from Jeff Strong
Dear friends and fellow boaters,
Wow, have we enjoyed an absolutely beautiful summer here in the Northeast. I hope you've made some special memories on the water this season – I know I have.
It's been a thrill to deliver our first Fairline yachts to their lucky owners this year – and still more are on their way to our shores. If you're not familiar, I recommend you introduce yourself to the sleek and elegant range from this iconic British yacht builder. Why not explore the opportunity to make one yours?
We've proudly represented Cobalt Boats stretching back generations. If you're one of our many longtime Cobalt owners – or if you're simply Cobalt-curious – this historic brand's latest innovations will surprise and delight you. Read on to learn about Cobalt's newest features, and we invite you to come aboard our extensive Cobalt inventory at any of our locations!
In this issue, you'll also learn about Strong's Total Care Commitment, provided at no charge during your first boating season. We're proud to offer this unique program to assure you more time on the water.
On behalf of the entire Strong's team, thank you for your business and loyalty. We are grateful for the continued opportunity to enhance your family's recreation.
Warm regards, Jeff Strong
---
Unmistakably Squadron- Just Arrived Squadron 68 and other vessels by Fairline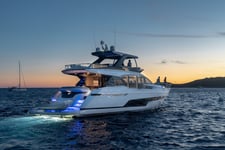 Racing out to new destinations is what the elegant Squadron 68 is designed for. Take in your surroundings from the elevated flybridge, with the breeze on your face and the horizon all around you. Dine with friends in the single-level saloon, served from the well-equipped galley. Lightness, space and a fluid design make time above or below deck both graceful and free-flowing. With no question, this is a yacht that will move you.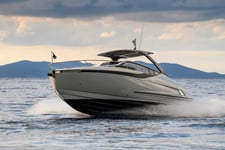 Considered space means your guests can stretch out in comfort. Excellent low speed maneuverability gives you uncomplicated handling. And the powerful twin Mercury Verado engines being within reach means easier maintenance.
TARGA 45 OPEN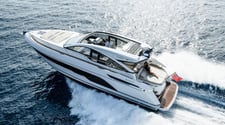 With a touch of Riviera glamour, elegant lines and a low-profile that provides a sportier appeal, the Targa 45 OPEN is perfect for dropping anchor along any coastline, anytime of day.
PHANTOM 65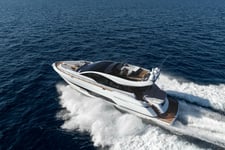 Within every line, every detail and every feature, you'll find the perfect balance of unparalleled calm and unrivalled excitement. Unwind in perfect luxury as you watch the world go by with champagne in hand, then climb up to the sportsbridge and experience the exhilaration as the world flies by at 35 knots.
---
Top-Notch Service
Strong's "Super Service" makes time on the water easy for the Galbo family. "If you want headache-free service, Strong's is the place to go."
Larry Galbo originally became a Strong's Marine client when he brought his boat to be serviced at our Southampton Marina and has been hooked ever since. "Everything is top notch," Galbo said, "we have been really happy with the service we've received the last few years."
When it was time for the Galbos to upgrade their boat, they visited Strong's at the New York Boat Show at the Javits Center in January 2023. With the help of Sales Consultant Drew Lanzetta, the Galbos decided on the Regal LX2.
"The boat fit all my needs and is the perfect size for my slip – it blew every competitor [at the show] away. The layout is spectacular with the way the seats move and adjust, the storage options and the overall function are perfect!"
"I was happy to purchase my new boat with Strong's because I knew the team would pick it up in the winter, store it, take care of it and drop it off in the spring."
Larry especially enjoys spending time on the water with his kids and grandkids. "Its a great family boat. We like staying on the [Peconic] Bay – kneeboarding, water skiing and fishing – it really adds to the 'beach life' for sure!"
"If you want headache-free service and professionalism, Strong's is the place to go. I don't get to use my boat that often but when I do, I don't have to worry about breaking down or having an issue with my boat. I trust Strong's Marine – they take care of their customers with professionalism and solve any problems."
---
Elevating Quality, Luxury, and Innovation - Discover the Newest Models from Cobalt Boats
Introducing the all new Cobalt R33 and R35 models – the epitome of boating brilliance, available with your choice of stern drive or outboard power! These sleek vessels are here to elevate your on-water experience like never before. Explore their cutting-edge technology and exceptional features!
Cooler, Cleaner Seating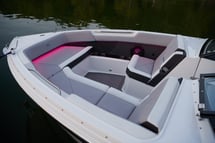 Cobalt's innovative Fresco Chil vinyl keeps darker colored seating a full 15-20 degrees cooler than traditional vinyl even when it's out in the sun. Plus, it's anti-bacterial, anti-fungal and mildew-resistant! Available on all models.
Auto-Deploy Galley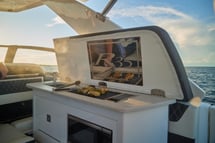 This elegant galley disappears under a generous cushion when not in use, offering additional deck and seating space. At the touch of a button, the assembly elevates, providing access to a galley complete with sink, electric grill and microwave with solid surface countertop. Available on R35 and R35 Outboard models.
Harman Kardon Audio Excellence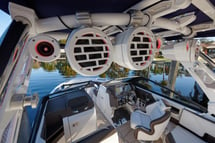 Cobalt boats have always been equipped with state-of-the-art sound equipment. Harman Kardon's time alignment and spectral response mean there's isn't a bad seat in the boat: the system's marine ruggedized components offer top-tier sound throughout. Available on R33, R33 Outboard, R35 and R35 Outboard models.
---
Broker Your Boat with Strong's
Our generations of expertise in the high-end boat sales market uniquely enable us to deliver results, regardless of market conditions. Here's how we provide expert brokerage service:
Our professional and knowledgeable brokers will oversee a smooth listing process and a streamlined transaction.
We employ professional videography, photography and copywriting to create an impressive, high-impact listing showcasing your vessel's best features.
Your listing is featured on our optimized, high-traffic websites. Strong's listings consistently outpace the market on Yacht World and Boat Trader, driven by quality and our deep investments in these platforms.
Paid search advertising, retargeting, and precision email marketing engage prospects and drive traffic to your listing.
Strong's Water Club, our resort marina on Long Island Sound, is a destination for thousands of boaters and an ideal in-season showcase for brokerage boats. We present in-house brokerage sales events throughout the year.
Our extensive network of marinas and sales offices offers wide exposure, diverse venues, and experienced staff with advanced machinery for all your vessel needs.
Learn more about How to Get Top Dollar for Your Boat
---
Valet Dockage - Peconic bay, Mattituck
WHAT IS VALET DOCKAGE?
Easy, unlimited launch 7 days via app Canvas removed, stored & put back on upon your return engines are warmed up fresh water flush of engines cleaned from the rub-rail down with soap & water after every haul
Upgrade to Premium Valet for a full wash and fuel tank top-off at launch!
SPECIAL OFFER Complimentary valet dockage for remainder of 2023 season with 2024 contract.
Learn more about valet dockage here!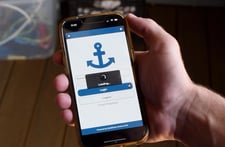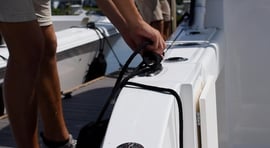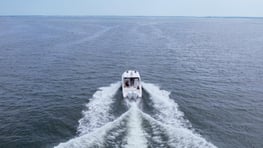 ---
From Novice to Confident Skipper - A novice boater's journey with Strong's Boat Club
Gina Liotti was eager to spend more time on the water, but she wasn't ready to jump into boat ownership. Everything changed when she discovered Strong's Boat Club. "Boat Club offers ownership experience at a more affordable price for a season," Gina explained.
As a novice member of the boat club three years ago, Gina received on-water instruction every year from a certified captain. "The more you go boating, the more confident you feel," Gina expressed.
Now, Gina considers herself an intermediate skipper, comfortable navigating and docking with a single engine. Her next goal is to master a twin engine boat, with owning her own boat as the ultimate objective.
Gina has made the most of Strong's Boat Club by participating in educational events like Women on the Water and Unlock the Shinnecock, hosted during the spring season.
"The more time you spend with a captain or seasoned boater, the better boater you become!" she emphasized.
Gina's favorite aspect of being a Boat Club member is the abundance of amenities. With marinas located on the North and South Forks, reserving and accessing boats becomes effortless, while the Strong's Marine team ensures the vessels are well-maintained.
---
Join the Strong's Marine family & receive the best!
When you purchase a new boat from Strong's Marine, whether you're a veteran skipper or new to boating, we are here for you every step of the way
Captain's lessons Full tank of fuel & entire boat detail
Complete Coast Guard safety package, including life jackets, platinum lines, fenders & fender covers
Complimentary season of Total Care Commitment Service in Long Island and the 5 boroughs – expanded service to Cruisers Yachts & Fairline owners, NY, NJ & CT (and RI for Fairline owners). Strong's Marine has a fleet of 12+ service vehicles fully-loaded and ready to work off-site.
Strong's certified technician team is committed to getting you back on the water. We never


subcontract our service work, so we are able to manage our response times. Open 6 days a week in season.

An incredible ownership experience- you will be cared for by over 135 full time Team Members committed to serving you! Over 75 years of family ownership.
Premium access to our 8 Long Island marinas
A lifetime of memories with friends and family on the water!
---
Strong's Total Care Commitment
A comprehensive package that ensures maximum protection, convenience, and safety for boat owners.
Extend your time on the water and the life of your boat, hassle-free! With swift repair guarantees of five business days for major mechanical issues, and a unique promise to lend you a boat from our premium rental fleet at no charge if the repair takes longer, Total Care ensures your peace of mind. We also offer repairs within ten business days for non-operational issues.
What sets us apart is our complimentary dockside service on Long Island and to the 5 boroughs of New York, with dock calls available to Cruisers Yachts and Fairline owners in their expanded yacht territory spanning NY, NJ, CT, and RI.
All you have to do is complete the recommended annual preventive maintenance service of engines and drives as recommended by your boat's manufacturer's, winterize, spring commission, and store at Strong's Marine. For those purchasing a new boat from Strong's, the first season of Total Care is included, and for continued commitment, simply sign a Total Care service agreement each year. Join the Total Care family today at 631.298.4770.
Strong's Water Club recently sponsored Northwell Health's East End Walk to help expand Peconic Bay Medical Center's Breast Health program and develop a comprehensive Mother & Baby Unit on the East End of Long Island.
Supporting this cause was especially meaningful to Strong's. Our own team member, Terry Gorga, and her husband, John, were diagnosed with the same kind of breast cancer within months of each other in early 2021. They received amazing care from Northwell Health and PBMC; they are currently cancer-free.
The Gorga team, "In it Together," was a top fundraising team at the event. "The walk gave me such a sense of community," said Terry, as her team consisting of nearly 40 Strong's teammates, family members and friends walked together with their doctors and care team. The Gorgas were invited to speak at the event; as Terry addressed the crowd, she was overcome with a flood of emotion, feeling the love and support of her teammates. "
Thank you doesn't seem like enough! My heart is full."
- Terry Gorga, Strong's Water Club Office Manager
---
BEST PLACE TO WORK- Strong's Marine Southampton

Strong's Southampton locations were recently named a Great Dealership to Work for by the Marine Retailers Association of America (MRAA). This tight-knit group of 15 employees works together to delight customers at Strong's Southampton showroom and two marinas on the Peconic and Shinnecock Bays.
Team members are anonymously surveyed to gain insights into working at their dealership. One Strong's team member expressed that their manager is "very involved in team building" and "goes the extra mile to ensure clients get the best possible service." Many employees identified their team as the best thing about their dealership, and said their co-workers and clients are truly like family.
Longtime General Manager Jessica McCarthy, who leads this excellent team, notes that "our team collaborates every day with one goal: the best possible experience for our boaters."
---
Pick up the latest issue of Strong's DESTINATIONS Magazine at one of our 12 locations!